By Grant F. Smith
ON SEPT. 14, U.S. Undersecretary of State Tom Shannon and Acting Israeli National Security Adviser Jacob Nagel signed a new 10-year memorandum of understanding for $38 billion in U.S. military aid to Israel. A signing ceremony—described as "low-key" by The Washington Post—was held in the State Department's Treaty Room. Ceremonial protocol revealed not only why such a memorandum of understanding (MOU) cannot be subjected to much public scrutiny, but also the identities of the main constituencies pushing for such aid in the face of growing opposition.
The attendees were either State Department special guests invited to fill the arced row of chairs in the Treaty Room, or members of the news media responding to a last-minute notification posted on the State Department's website. The rules for news media were strictly enforced. There were to be no questions asked of officials—such as Nagel or U.S. National Security Adviser Susan Rice—before or after their speeches. Reporters were also kept from asking questions of the many special guests who filed in from an elegant annex. They were marched from a private passageway, relieved of cell phones, and kept behind a rope line at the back of the room. Numerous State Department minders were on hand to keep the press in line.
It quickly became clear that pro-Israel activists made up the large contingent of the special guests. "I want you to meet…he's from the Conference of Presidents! [of Major American Jewish Organizations]!" went one introduction. Jonathan Greenblatt, the new head of the Anti-Defamation League, entered the room with quiet intensity, less effusive than his predecessor, Abraham Foxman, who headed the organization for 28 years before stepping down in 2015. Rep. Debbie Wasserman Schultz (D-FL), ejected in June amid controversy as chair of the Democratic National Committee, only to immediately be named Hillary Clinton's honorary campaign chair, flitted among her numerous admirers across the Treaty Room. Only a handful of low-ranking uniformed military personnel were on hand, ignored by most of the special guests and mainly serving at the very end as props for an official photo opportunity.
After a perfunctory speech by Rice claiming an "unshakeable commitment to Israel's security" and assertion that "our security is linked" without explaining how, and additional comments by Nagel, the MOU signatures were inked at a long table. The leather portfolios passed between signatories seemed too thin to contain the actual MOU. Shannon and Nagel cast what seemed to be almost furtive glances at the audience as press and State Department video cameras rolled and shutters snapped.
The new MOU succeeds the George W. Bush administration's 10-year (2009-2018) $30 billion MOU. Under that agreement, Israel used 26.3 percent of its U.S. aid to build up its own domestic export-oriented military industrial complex. It also used MOU aid to purchase U.S. commodities such as military rations, diesel and aviation fuel. Israel and its U.S. affinity organizations then lobbied and extracted hundreds of millions more from Congress each year in additional "short fuse" emergency funds for missile defense. The U.S. taxpayer shelled out $1.3 billion for Israel's Iron Dome system, with additional ad hoc allocations for Israel's Arrow-3 and David's Sling systems.
The complete contents of the George W. Bush MOU—like its Obama administration successor—remains a mystery. Neither has been publicly released. The George W. Bush Presidential Library and Museum—responding to a FOIA request—confirmed that the expiring MOU was "approximately 675 pages," but shows no eagerness or haste to release it. The State Department has not responded to a FOIA request for the current MOU, which is likely even lengthier and more complex, or for a complete list of MOU ceremony invitees. According to the MOU Fact Sheet released by the White House, Israel will now be prevented from lobbying Congress for additional missile defense aid, may no longer spend MOU dollars on commodities such as fuel, and the huge subsidization of Israeli military contractors will gradually sunset.
However, the MOU must still be funded by Congress. As an executive order mandating Foreign Military Financing, a Foreign Operations Appropriations Act must be passed each year by Congress and signed into law by the president before spending on new military hardware can commence. The appropriation is likely to be included in an omnibus spending bill in December.
Key members of Congress heavily supported by pro-Israel donors and PACs, have already proclaimed the MOU caps on addition funds "unconstitutional." Republican Sens. Lindsey Graham (SC), Kelly Ayotte (NH), John McCain (AZ) and Ted Cruz (TX) have already rejected principle of limitations by filing measures to provide Israel with $1.5 billion in military aid in addition to MOU commitments.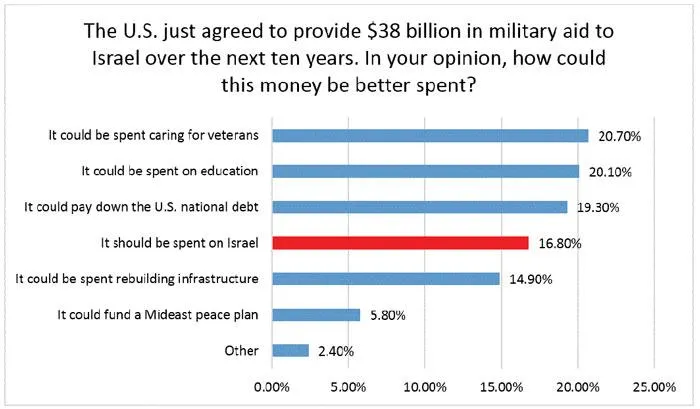 Absent from legislative and executive branch maneuvers is any consideration of broader U.S. public opinion about aid to Israel. Pollster Shibley Telhami found in a March 2016 poll that 57 percent of Democrats, 59 percent of Independents and 40 percent of Republicans felt U.S. aid to Israel was either "too much" or "way too much." An IRmep poll fielded by Google Consumer Surveys immediately after the MOU signing revealed that 80.8 percent of U.S. adults would rather spend the $38 billion pledged on higher priorities such as caring for veterans (20.7 percent) or education spending (20.1 percent).
On Sept. 16 State Department Spoke­sperson John Kirby responded to a reporter's persistent questions about the legality of aid to Israel, given former Secretary of State Colin Powell's newly leaked e-mails confirming that Israel had over 200 nuclear weapons pointed at Tehran. Asked whether, under U.S. law, aid to Israel should be cut off since it is not a signatory to the Nuclear Non-proliferation Treaty, Kirby dodged and weaved, claiming he was unware of and would not discuss the implications of such "e-mail traffic." When pressed to comment on Israel's possession of nuclear weapons, Kirby stated, "I'm certainly not going to discuss matters of intelligence from the podium, and I'm not—I have no comment on that."
The concept that Israel's nuclear weapons program is an "intelligence matter"—rather than common knowledge long in the public domain that should have policy implications—is a subterfuge that has been repeatedly used by U.S. administrations since Gerald Ford left office. The Obama administration passed a secret gag order regulation under State Department classification guidelines in 2012 mandating criminal charges against any contractor or federal employee who dares mention Israel's nuclear weapons. Kirby followed the gag order to the letter. The huge, costly impact of the gag order on sunshine laws has provided standing for a lawsuit challenging not only the gag order as illegal, but also all U.S. aid to Israel (see October 2016 Washington Report, p. 18).
Many Israel lobby trumpets and mainstream media outlets claim the MOU is necessary for an Israel made vulnerable by Iran, but this claim rings increasingly hollow after Iran's entry into an agreement that limits its nuclear program. As the preeminent conventional and nuclear force in the region, Israel is not under any major threat. Some MOU opponents claim the aid is all the doing of a shadowy "military industrial complex." There is also little empirical support for this claim. Revenues of the top five U.S. military contractors were $221 billion in 2015. Though more of the MOU is earmarked to U.S. contractors, who purposefully spread manufacturing across many congressional districts, the total MOU annual giveaway represents less than 2 percent of the "top five's" revenue and reveals why few can be found openly lobbying for it.
Through private petition-gathering and fundraising appeals, the American Israel Public Affairs Committee (AIPAC) and other Israel affinity organizations reveal their role beyond that of honored guest at MOU signing ceremonies. In fact, they are the primary force driving U.S. aid to Israel—which since 1948 has consumed more of the U.S. foreign aid budget than any other country in the world. Absent the intense daily efforts of more than 300 U.S. Israel affinity organizations employing 14,000 people, with annual revenues on track to reach $6.3 billion by 2020, there would be no massive aid package to Israel. Not only does it serve no quantifiable, publicly known U.S. national interest, supporting Israel's military actions generates blowback against the U.S. in the form of terrorism, economic warfare, and loss of global good will.
At the conclusion of the signing ceremony, a stringer for a major U.S. business magazine told me she had just returned from Gaza, reporting on the dismal state of the private sector, and was distraught at the Soviet-like conduct of the MOU signing event. "That was simply awful," she murmured as we were whisked from behind the rope line and out the Treaty Room doors, even as special invitees began a private celebration massing for selfies (somehow special guests retained their devices) and photo ops with Secretary of State John Kerry.
"What did you expect?" I responded. "An opportunity to actually ask a question?"
"No," she replied, "I expected to be treated like a human being."
Such consideration, whether toward Palestinians and peoples in neighboring countries likely to face newly empowered Israeli military adventures, or the majority of Americans who oppose foreign aid to Israel, is long overdue.
Grant F. Smith is director of the Washington, DC-based Institute for Research: Middle Eastern Policy (IRmep). View a database of Israel Affinity Organizations, 2012 revenues, employees, volunteers and forecast 2020 revenues at <http://israellobby.org/bigisrael/>.
Top 10 articles in this category…